Analog Semi-Modular Percussion Synthesizer with 2 Oscillators, Multi-Mode Filter, Dual 8-Step Sequencer and 16-Voice Poly Chain
Analog semi-modular percussion synthesizer for insanely fat music creation

Pure analog signal path based on authentic VCO and VCF designs

Dual VCOs with pulse and triangle waves, oscillator sync and FM for a huge range of sounds

Dual 8-step sequencer with pitch and velocity controls for inspiring grooves and rhythms

White/pink noise source and external input for unlimited additional timbres

Multi-mode 24 dB resonant ladder filter with low and high-pass plus cutoff modulation by noise

3 separate decay envelopes for pitch, filter cutoff and amplitude for detailed control

Sequencer speed with up to 10,000 BPM allows for audio range waveform generation

Semi-modular design with default routings requires no patching for immediate performance

15 x 10 I/O matrix for incredibly vast and flexible patching options

44 controls give you direct and real-time access to all important parameters

Multiple clocking sources including MIDI/USB for synchronization with other equipment

Time division control featuring 8 different rates

Comprehensive MIDI implementation with MIDI channel and Voice Priority selection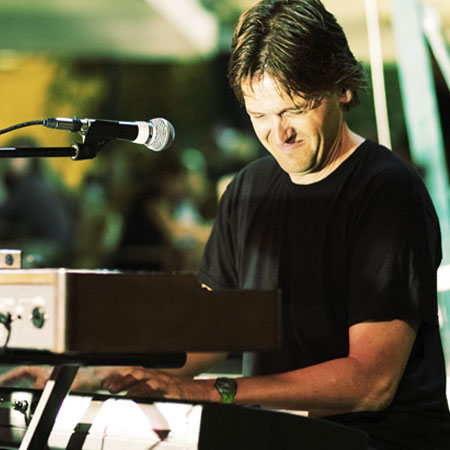 EDGE
If you've been searching for the perfect companion to your Behringer CRAVE then the brand new EDGE provides all the tools you need to complete your synth setup and become a master beat-maker, including: Dual VCOs with a huge range of sounds, a dual 8-step sequencer with pitch and velocity controls and so many more features for a powerful and flexible drum & bass machine that'll shake the house and get everyone moving to the beat!
Analog Goodness
Great care has been taken in designing the EDGE to achieve new possibilities in sound creation by reviving timeless analog designs and technologies. By taking a fresh and modern approach on classic circuits, the EDGE gives you the power to create super-tight percussive sounds to dark and moody bass lines.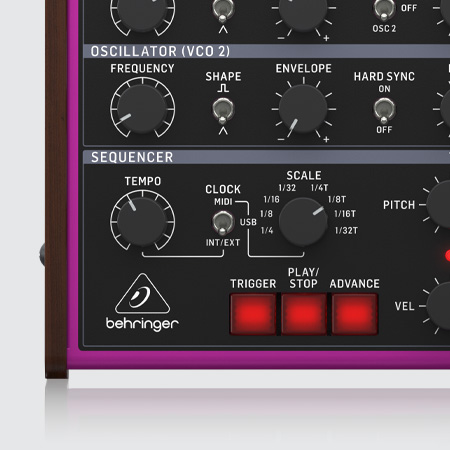 Live Performance Beat Maker
Built to enhance the way you perform, the EDGE boasts a pure analog signal path, Dual VCOs with pulse and triangle waves, oscillator sync and FM plus a white/pink noise source for a huge range of sounds and timbres. Its dual 8-step sequencer with pitch and velocity controls can also provide you with a degree of control that will let you create any groove and rhythm you can imagine. If that wasn't enough, the EDGE's sequencer can go up to an astounding 10,000 BPM so you can turn your beats into mind-blowing waveforms that'll surprise even the most hardcore synth wave fan out there.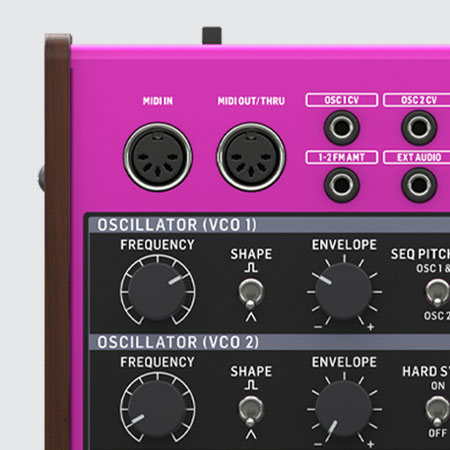 Controls
The EDGE has a whole slew of modulation and controls that can help you in shaping your beats and basslines and giving them the ability to transcend dimensions or just sound really, really awesome. These include a multi-mode 24 dB resonant ladder filter with a low and high-pass filter and three separate decay envelopes for pitch, filter cutoff and amplitude for detailed control. Thanks to its semi-modular design, the EDGE can perform right out of the box with its default routing. But if you need a lot more control and want to sculpt your sound even more, the EDGE features a 15x 10 I/O matrix for incredibly vast and flexible patching options. The matrix includes inputs for Control Voltages, Decay, Trigger, Velocity, Noise Level, External Audio Sources, Tempo, Modulation and so much more.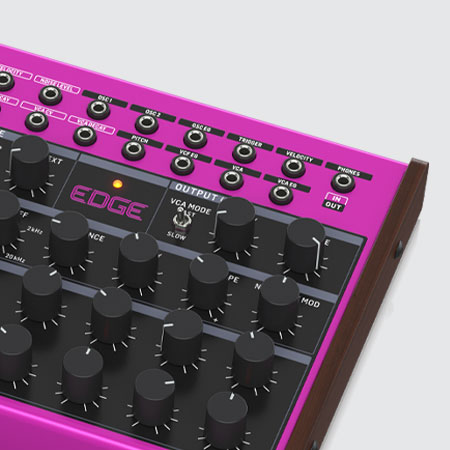 The Numbers
The EDGE has 44 controls to give you direct and real-time access to all important parameters, all laid out in a highly intuitive format that puts the fun back in to your beat creation. Input and output connections include MIDI In, MIDI Out/Thru, USB, OSC 1 CV, OSC 2 CV, OSC Decay, ADV/CLOCK, Trigger, Velocity, Noise Level, 1-2FM AMT, EXT AUDIO, Tempo, Play/Stop, VCF MOD, VCF Decay, VCA CV and Pitch. An external MIDI keyboard, footswitch or expression pedal can be connected to the EDGE so you can have even more control over your beats and basslines. If one EDGE isn't enough for you, you can chain multiple EDGE's for more intricate combinations.